Homero Manzi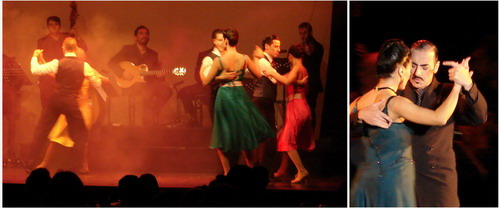 Esquina Homero Manzi the traditional Tango Show in the most "Porteño" neighborhood of Buenos Aires, where traditional tango is danced, dishes are typical and local audience attends.

Rates (Book from here with discount!):
Ticket Show:                               USD   74,90*
Dinner Show:                            USD  99,90* 

Free for hotels in San Telmo, Puerto Madero, Retiro, Downtown and Recoleta since 8.15 pm, minimum charge for Palermo and other areas
*Get this special rate and free private transfer to the place instead of the standard transfer!
Ask terms and conditions. Hurry up! Limited seats!





Basic Information about Homero Manzi Buenos Aires Tango Show:
Schedule: 8,30 pm dinner, 10.10 pm show
Pick up: Free, from 8.15 to 8.45 pm for dinner, from 9 pm to 9.30 pm for only show.
Duration: 1,30 hours
Payment: $Arg, Card, US$, Euro
DISCOUNT: AVAILABLE
Capacity:  120 seat people
Distance: Short
Orchestra: 5 musicians on stage
Singers: 2
Dancers: 8



Homero Manzi suggested Menu:
Meat empanadas (Local style meat pie)
Matambre (Cold rolled meat with stuffing)
Chorizo steak
Flan Homero
(See all menu)





Customer References for Homero Manzi Tango Show:
"We went with family and friends to celebrate a birthday party, everything was very good, the service very good, the staff helpful, the food very good and the show was very complete, good both. We use the Standard menu of three steps entrees, dessert and main dish. The meat was very well prepared, at its exact point, and plentiful portion. Show with live dancers and orchestra were included in the price. We paid a very good rat and it was a spectacular night. "
Alexander, USA.

"A typical place in Buenos Aires, we had it as an outstanding site to visit (we travel frequently), we loved it, do not miss the Tango show and have a nice glass of Argentine wine after dinner and not forget the dessert!"
Barbara, USA.






About the place and the show:
In the heart of Boedo, Esquina Homero Manzi is the traditional tango show par excellence. This tango house is located in an old café where one of the three Tango classics was born: Sur, written by Homero Manzi at one of his tables.

The Tango style that is danced there is mainly Tango to the floor, the more traditional Tango style, although of course the key figures of the stage Tango are made, achieving a very good combination between the two styles keeping the local color. The orchestra is a very solid quintet that plays the tangos with luxurious style, entering and leaving the melodies and adding exquisite arrangements. There are two singers for seasoning the evening, the lady has a melodious and deep style while the man recites the tangos with feeling and generates a magic moment when he walks between the tables and sings with the audience (As many attendees are local and know the Lyrics they sometimes accompany him).

The food aims to the everyday dishes of the Argentines, a reception with sherry and fried "empanaditas" (local meat pie you shouldn't miss) and then they offer traditional entrees like the meat empanadas or the matambre (meat rolled with filling). The chorizo steak is unbeatable although there are also choices of chicken and pasta. It is a short menu that has the typical dishes and wines that the Porteño family asks when they go to a restaurant. As dessert is highly recommended the Homero flan.

Homero Manzi tango dinner show Buenos Aires, a place where locals go to enjoy tango and good family food. Book now!




Full Menu:

Appetizaers
- Empanadas of meat at the local style (Meat pie)
- Matambre (Rolled meat)
- Carpaccio of steer, tenderloin with olive dressing, balsamic aceto, lemon, pepper, capers, sheets of parmesan and arugula.
- Bruschetta with tomato, concase, garlic, olive and basil
- Vegetarian quiche with vegetable puff pastry and julienne

Principals
- Chorizo steak with mixed salad of lettuce and tomato or French fries
- Mixed brochette with paillé potatoes
- Chicken room with noisette potatoes, bacon and leek cream sauce
- Mixed ravioli with green sauce, cooked ham, cream of milk, fileto and pesto

Desserts
- Ice cream with kiwi and strawberry sauce.
- Great Flan at Homero Manzi style

Beverages: Mineral water or sodas or orange juice or beer chopp or white/red wine (a bottle of wine each two people)







(El Viejo Almacen)





_______________________________________________

About me
Recommend this site     
_______________________________________________

Suggested Tango Shows 
Tickets with discount 
(This is a really complete site, Enjoy it!)SITE MAP 


..