El Querandí



Rates (Book from here!):
Ticket Show:                                   USD  54,90*
Dinner Show: USD 127,90  Now USD  89,90* 
VIP Dinner Show:                          USD 184,90*

Round Shuttle Included for Recoleta, Downtown, San Telmo and Palermo
*Get this special rate and free private transfer in to the place instead of the standard one!
Ask terms and conditions. Hurry up! Limited seats!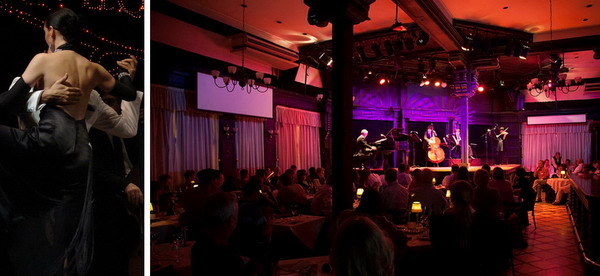 El Querandi tango show Buenos Aires is a traditional romantic small venue with gourmet food and perfect dimensions to enjoy Tango from short distance. At El Querandi dance the tango world champions 2016; it also has a very good quartet and three singers.

Basic Information about El Querandí Tango Show:
Schedule: 9.00 pm dinner, 10.10 pm show
Pick up: Free, from 8 pm to 8.30 pm
Duration: 1.30 hours
Payment: $Arg, Cards, US$, Euro
DISCOUNT: AVAILABLE
See prices scrolling up
Capacity:  120 comfortable seat people, individual tables
Distance between tables: Reasonable
Orchestra: 4 musicians
Singers: 3
Dancers: 8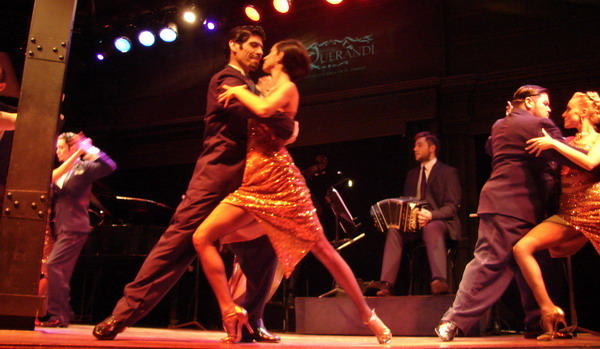 Suggested Menu at El Querandí Tango Show:
Empanadas of meat (local style meat pie)
Antipasto (sort of table of appetizzers) of cold cuts, cheese, olives and more
Chorizo steak
Bondiola (pork) at cuyana style
Black pudding
Homemade flan with cream and dulce de leche
Chocotorta (Typical porteño cake based on chocolate cookies)
(See all the menu, tipical food included scrolling down)

Customer references about El Querandí Tango Show:
"It's an intimate place where we enjoyed the nice ambient, the Show was World Class. Pretty amazing. I will never forget the food"
Mark M, Texas

"I felt the Tango Show as something real and autochthonous. Food was excellent"
Paullette, New Zealand





About the place and the Tango Show:




El Querandi Buenos Aires Tango Show was born in San Telmo's heart in 1867, and is had been operating since 1920 as Restaurant-Bar, awarded as one of the Remarkable Cafes of the City. El Querandi ambient mixes the intimate with the traditional, the dark mahogany of columns and boisserie contrasts with the shine of white, and each table is warmly toned with candles. With an exceptional distance between tables, El Querandi brings comfort and a short distance to stage, with an impressive view to a bar full of Cristals, Liquors and History. For the delight of the public, they use the bar to dance over it, with dexterity and passion, very-very close to the people. Well iluminated, with nice lay out and ready to bring a close Tango in which singers, musicians and dancers walks beside you to came and leave the stage during the diferent scenes of the Show. The short dimensions of Querandi Buenos Aires Tango Show far from bothering, brings the nice sensation of being in a huge living-room where the gastronomy shines through its presentation and well defined flavours. As El Querandi is a restaurant it is able to offer a wide menu of 20 different options, much above the standard.
The perfect complement for El Querandí Tango Show is the complete Winnery with the most selected Boutique Wines of Argentina, the perfect present to carry from Argentina to the World.
The Tango Show at El Querandi: The starting video is a fun sample of Tango in that old Hollywood, from Chaplin to The Flintstones, through Rodolfo Valentino. After Dinner and the video, we are going to see a serie of scenes who tells from the beginning the Story of Tango. And across this trail, shines an impeccable wardrobe that reflects the different times, an Orchestra of four virtuous that sounds like a symphony orchestra and and whose proximity allow public to see them clearly how they are not only playing but also enjoying (see the video) those who know say that the key of a Tango quartet is the connection between the counter bass and the piano, and these guys are really connected.

Dancers at El Querandí exhibits as talent as warmth, they highlight with their dance and also because of their acting. Casting is excellent also because of the faces and gestures, a realistic sample of men and "Argentinean brunette". There at El Querandi is dancing the couple winner of the Tango World championship 2016 (and World runners up 2015) so they obviously know how to Tango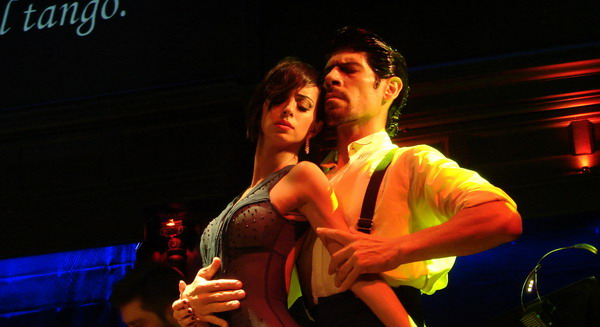 The three singers gives different vocal colors to a Show that is a really delicious resume of Tango. The mature man brings an amazing a capella which drives the public to heaven.







Full Menu:

Cold appetizers
- Varied antipasto Argentino of cold cuts and cheeses (Raw ham, cheese tybo, gruyere, salame, pate, bondiola, olives, eggplant at vinagrette)
- Citrus salad with avocado, chicken, oranges, honey vinaigrette and green leaves

Hot appetizers
- Empanadas stuffed with meat or lamb or chicken
- Tasting of regional flavors in cazuelitas: Guisito of lentils, carbonada and locro (both traditional stews).
- Cream Soup of the Day
- Humita to the cream (corn with onion basil, morrón, dried tomatitos, garlic and olive)

Salads
- Caesar Sea Salad (Green leaves, parmesan cheese, croutons, Caesar dressing and sole).
- Avocado and Chicken Salad with oranges, pomegranate, lettuce and mayonnaise.
- Salad Complete with mushrooms, hearts of palm, shrimp, black olives, tomato, celery and golf sauce.

Main Courses

- Traditional Chorizo ​​steak with baked potatoes and Creole sauce
- Meat cake based on potatoes, loin dice, cream, parmesan cheese, cream and red sweet peppers
- Patagonian lamb in casserole with mushrooms, carrots, eggplants, potatoes, onion and eggplants
- Bondiola (Pork) at Cuyana style with chimichurri with sweet potatoes, cashew nuts and barbecue sauce.
- Sorrentinos (Huge round raviolis) filled with blackpudding at pomodoro with egg
- Home made tagliatellis at Cuyana style accompanied by arugula, parmesan, bacon and mushrooms
- Patagonian risotto with spinach, onion, mushrooms, cream and parmesan cheese
- Dish of the day of gratin fish accompanied with mashed potatoes in creamy mushroom sauce
- Chicken at the Pamplona style (thigh rolled in bacon with zuccini, sweet pepper, green onion, rice and carrots)

Desserts

- Homemade custard
- Bread pudding
- Vigilante (fresh cheese and sweet potato bar)
- Fruit salad
- Chocotorta (Traditional Porteño cake based on chocolate cookies)
- Cream of Dulce de Leche and Nuts
- Yerba Mate Tiramisu Dessert (Yerba mate is the leaf used for doing our typical tea, named mate)

Beverages

- Wine Malbec and Chardonnay (1 bottle each 2 persons).
- Beer.
- Soft Drinks and Water.
- Coffee and Tea.








(Cafe de los Angelitos)





_______________________________________________

About me
Recommend this site     
_______________________________________________

Suggested Tango Shows 
Tickets with discount 
(This is a really complete site, Enjoy it!)SITE MAP 


..